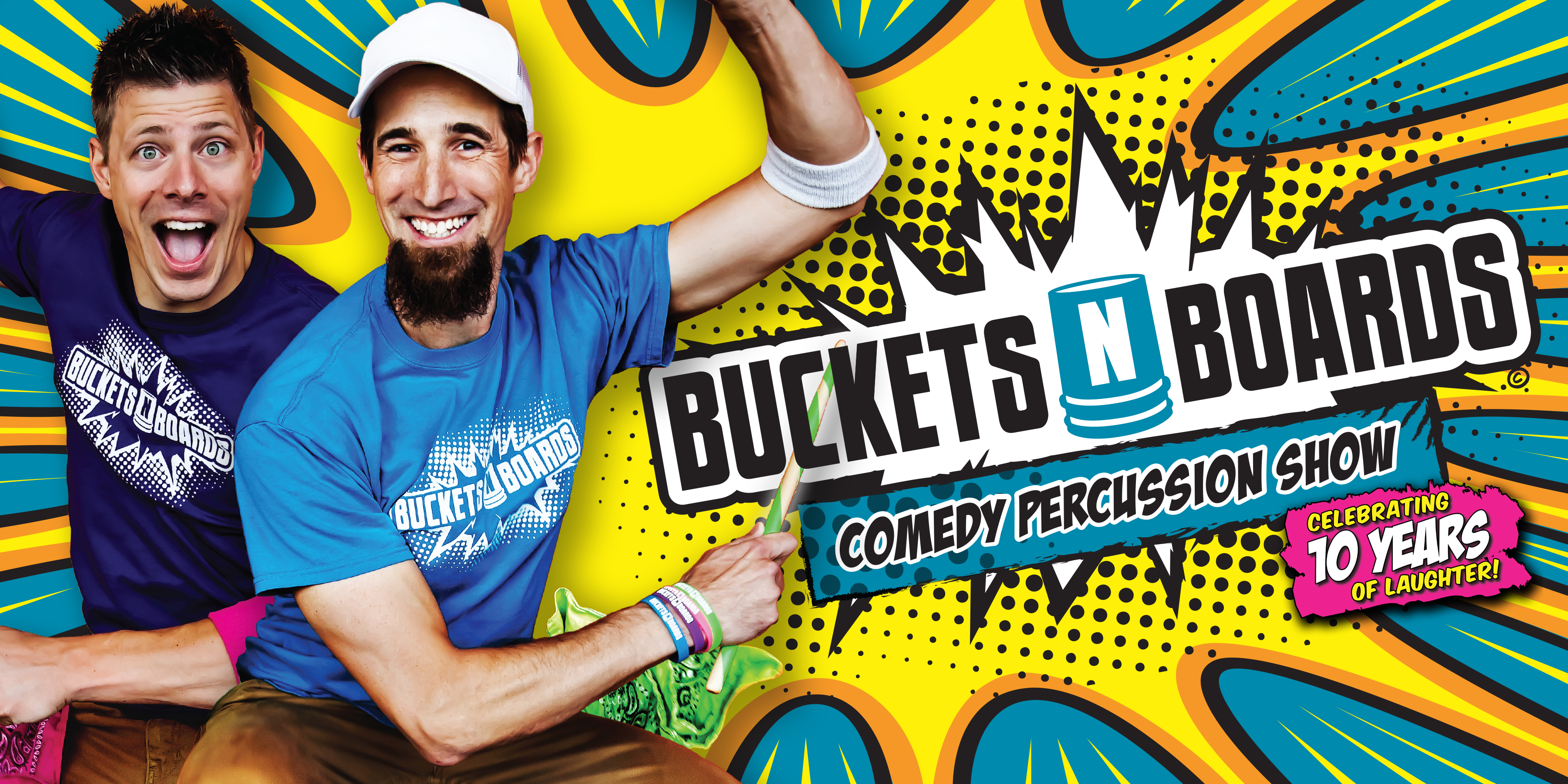 BUCKETS N BOARDS
SATURDAY, 8/21/21 - 7pm
Buckets N Boards Comedy Percussion Show is a spectacularly imaginative work brought to life by two prolific performers! Matt Levingston and Gareth Sever, two masterful musicians and comedians, bring a joyous charm to this full stage production. The show was born from their shared passion for music and rhythm, but it truly comes to life through the nonstop hilarious interplay between these two characters and their audience. The intricate beats and stunning synchronicity are awesome to behold! The sheer variety of instruments and found objects they are able to manipulate is inspiring! The comedy, centered on the improvisational interactions with the crowd, is the driving force of the show!
Buckets N Boards has performed 10 critically acclaimed summer seasons in Branson, MO, performed with the Kansas City Symphony, and are currently one of the most requested headline acts on Disney Cruise Lines. From their imaginative songs, beautiful harmonies, dazzling tap dancing, crisp beatboxing, body percussion and bucket drumming, to a fresh and unique brand of clean comedy, Buckets N Boards has crafted an original theatrical experience the entire family will enjoy!
PURCHASE TICKETS HERE! General Admission $10 / RSD Students admitted FREE with purchase of adult ticket.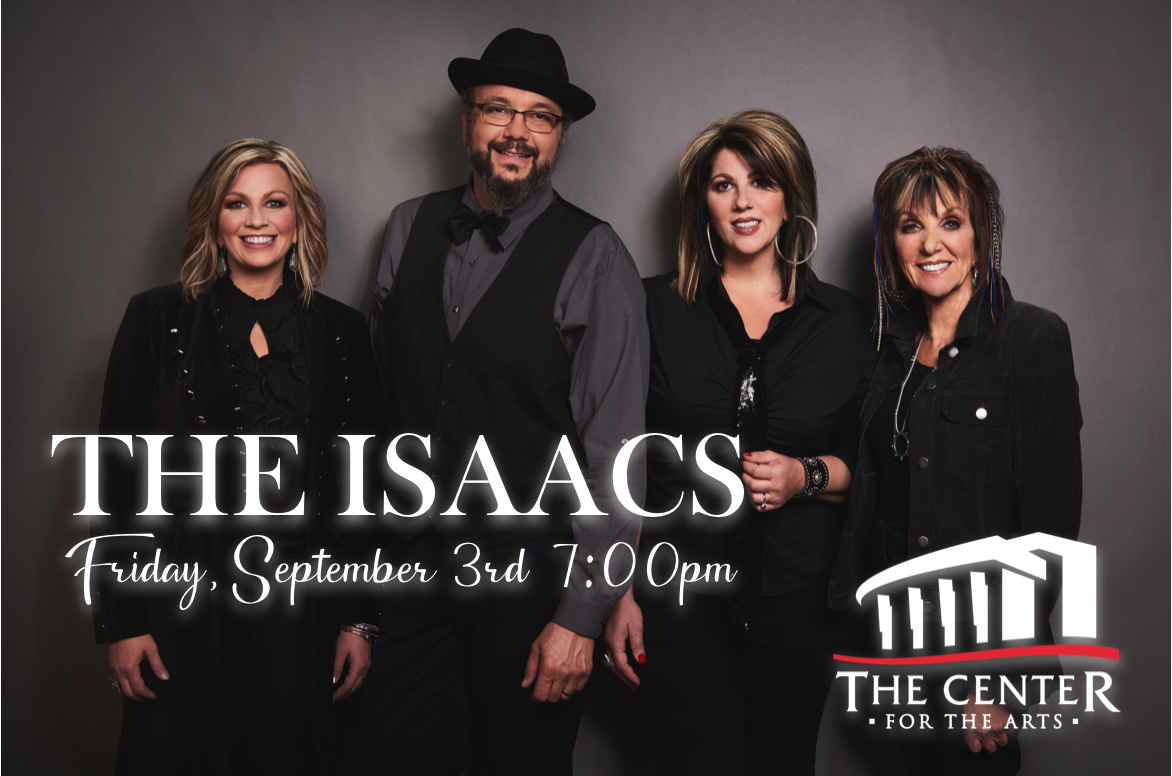 THE ISAACS
FRIDAY, 9/3/21 - 7pm
The Isaacs, a multi-award winning family group who began singing 35 years ago are based out of Hendersonville, TN. The vocalists are mother Lily Isaacs and siblings Ben Isaacs, Sonya Isaacs Yeary and Rebecca Isaacs Bowman. Playing their own acoustic instruments and joined by other band members, The Isaacs have a unique style that blends tight family harmony with contemporary acoustic instrumentation that appeals to a variety of audiences. Their musical style has been influenced by many genres of music including bluegrass, rhythm and blues, folk, and country, contemporary, acoustic and southern gospel.
They perform frequently at the Grand Ole Opry, are active members on the Gaither Homecoming Videos and Concert Series, and travel internationally throughout the year to perform to welcoming fans in countries such as South Africa, Norway, Holland, Scotland, Ireland ,Israel, Canada and many more. Concert venues include civic centers, auditoriums, arenas, fair grounds, parks, churches and other locations. They have been nominated at and performed on the Dove Awards, IBMA (International Bluegrass Music Association) and NQC (National Quartet Convention) Awards, the ICMA Awards (Inspirational Christian Country). Other notable performances include CMA Fan Fest (Country Music Fan Fest), Carnegie Hall, and many professional sporting events, including a Cincinnati Bengal's football game, Nashville Predators Hockey games, and an Astros/ Braves baseball game. The Isaacs have won over 7 Doves in various categories and have had several Grammy nominations in their career. They feel blessed to be able to travel and spread the message of hope and grace through song and story.
Tickets go on sale July 3, 2021. PURCHASE TICKETS HERE!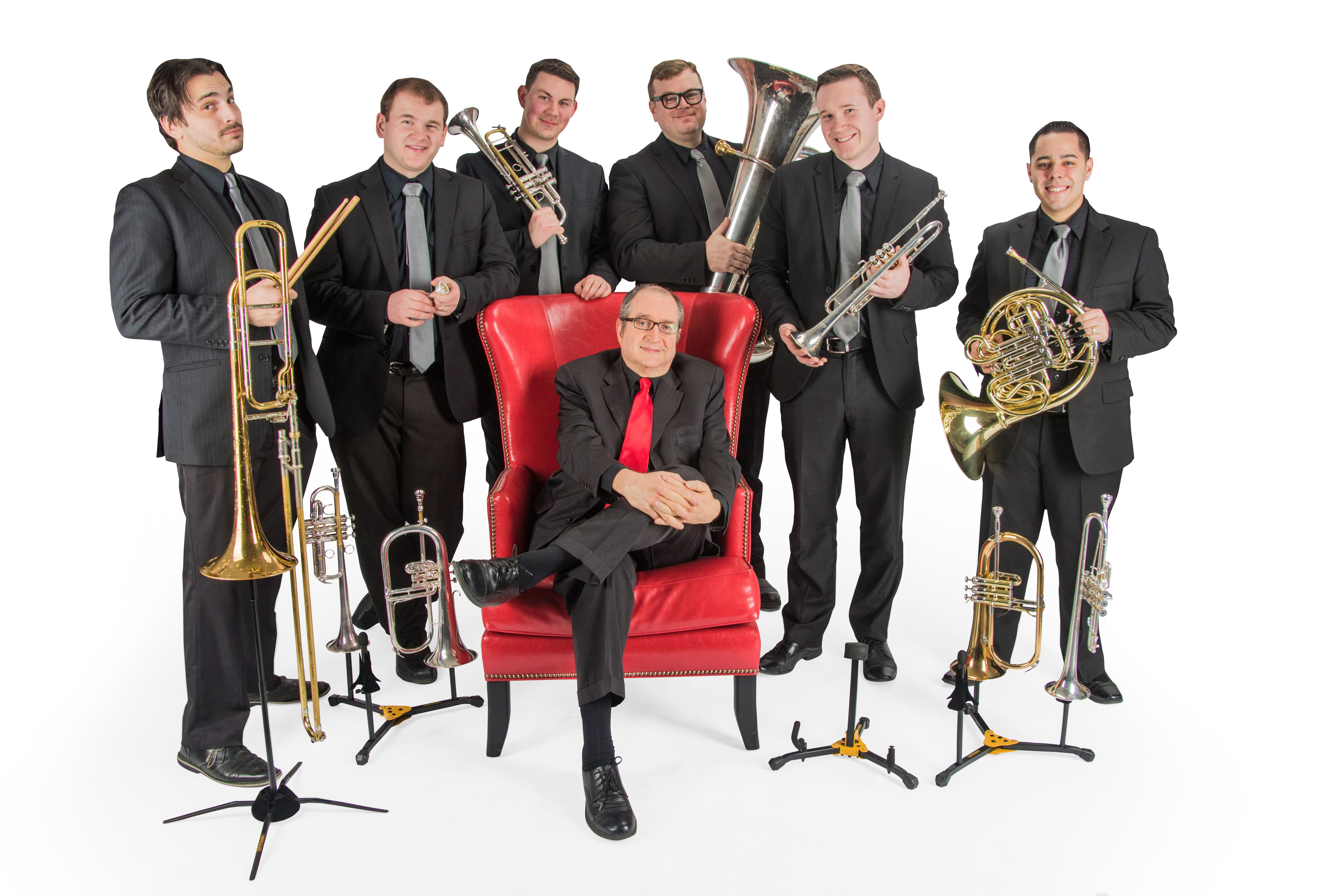 DALLAS BRASS
TUESDAY, 3/30/22 - 7pm
Since its founding in 1983 by Michael Levine, the Dallas Brass has become one of America's foremost musical ensembles. The group has established a unique blend of traditional brass instruments with a full complement of drums and percussion, which creates a performing entity of extraordinary range and musical challenges. The Dallas Brass repertoire includes classical masterpieces, Dixieland, swing, Broadway, Hollywood and patriotic music. According to Mr. Levine, "a Dallas Brass concert is intended for the entire family. Our ideal audience has a range in ages from 5 to 95. Our goal is to entertain and enrich by playing great music, while showing our audience how much we enjoy what we do."
In addition to their solo engagements, the Dallas Brass appears with symphony orchestras nationwide. Symphonic credits include the Cincinnati Pops conducted by Erich Kunzel, New York Pops conducted by Skitch Henderson, and the Philly Pops conducted by Peter Nero. The Dallas Brass has performed at Carnegie Hall, the John F. Kennedy Center in Washington, DC, and has toured overseas to Europe and the Far East. They have shared the stage with the late Bob Hope, have performed for Presidents Gerald Ford and George H. W. Bush, have appeared on the CBS "Early Show," and their music has been used numerous times on the television show, "The Young & The Restless."
​The ensemble has released seven recordings: Debut, Dallas Brass II, A Merry Christmas with Brass, Windborne, Nutcracker, American Songbook and American Musical Journey. The Dallas Brass has a strong dedication to working with young musicians, frequently going into the public schools to present clinics and workshops for students of all ages.
​