News

ATTENTION RSD FAMILIES: Information for Meal Distribution in July- RSD will continue meals throughout the month of July on Tuesdays, at Crawford Elementary and Oakland...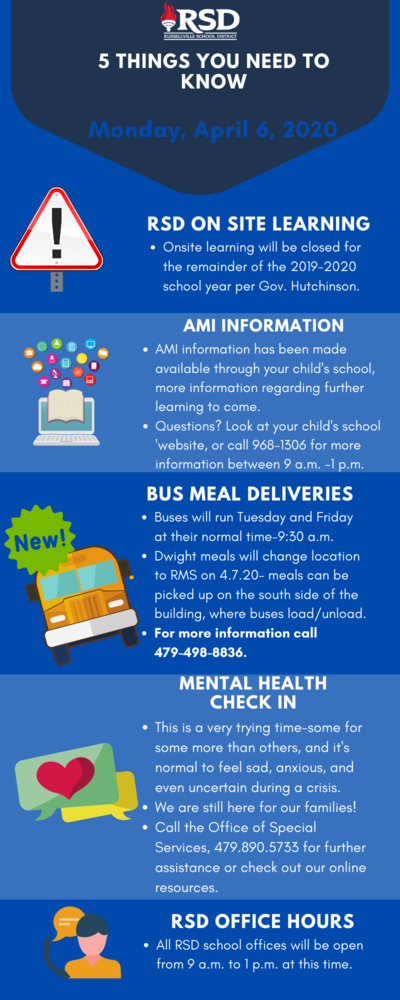 Good Monday afternoon RSD, here are Dr. Gotcher's 5 things you need to know for today: 1. Governor Hutchinson announced in his press conference this afternoon that all on...
SEE ALL NEWS
LIVE FEED
Russellville School District
22 days ago
Attn: Today is the deadline for our online surveys. Please check your student's school website and social media or RSD's website for the links to elementary and secondary surveys. (Completing the survey is not a firm commitment it is simply to collect data!)
Only one per household is needed, Thank you for your participation.
view image
Russellville School District
28 days ago
Spanish Elementary Survey for the 2020-2021 school year
Estamos recopilando datos para ayudar en la planificación del año escolar 2020-21. Complete la siguiente encuesta una por familia antes del jueves 11 de junio.
Aprendizaje en el sitio -
El objetivo actual para el aprendizaje en el sitio se parecería a un entorno escolar tradicional con prácticas de seguridad adicionales establecidas. Los estudiantes asistirían a un día completo de instrucción, 5 días a la semana. En el caso de otro cierre de la escuela, el nuevo contenido de nivel de grado continuará a través del aprendizaje remoto. Esto no será como el trabajo anterior de AMI.
Aprendizaje fuera del sitio
El objetivo actual para el aprendizaje fuera del sitio sería el aprendizaje virtual a través del Distrito Escolar de Russellville. Este NO será el mismo formato que AMI. Se producirá un nuevo aprendizaje, se esperará la participación y se tomarán calificaciones. El aprendizaje fuera del sitio sería en lugar del aprendizaje en el sitio
view image
Russellville School District
28 days ago
RSD
Encuesta en línea
para el 2020-2021
año escolar
ya disponible
Por favor complete por
11 de junio de 2020
view image
Alan Nolan
4 months ago
Classes are now closed through April 17, 2020. We hope to reopen April 20, 2020. We will try to have someone in the office to answer your questions. Take care of your families and continue to work on Aztec or other assignments. We urge you to practice social distancing, take care of yourself.
SEE ALL POSTS